M11 Severe-Duty™ Muzzle Brake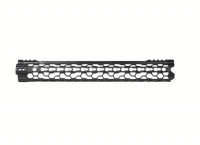 The M11 Severe-Duty™ Muzzle Brake Delivers Superior Recoil Reduction With Minimal Dust Signature.
A massive symmetrical blast baffle, combined with two compensated front baffles, redirect gas to the sides and upward delivering unparalleled recoil reduction while also minimizing muzzle rise and ground disturbance. High tolerance class-3 threads machined in same operation as bore aperture ensures perfect concentricity; this combined with a progressively decreasing baffle thickness minimizes bullet flight disturbance resulting in less yaw, higher BC, and improved accuracy. Computer FEA optimized for maximum strength to weight ratio and impact survivability. Precision CNC machined from high strength HTSR 400-series stainless steel bar for superior heat and corrosion resistance. Wrench flats on top and bottom for easy muzzle brake installation and removal. Available in either an ultra wear resistant DLC (Diamond-Like Carbon) matte black finish, or stainless steel in-the-white, matte finish.
This muzzle brake is designed to fit 5/8-24 threaded barrels.

Link to parts manufacturer