LA-5/PEQ Laser Sight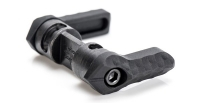 A replica of LA-5/PEQ laser sight is a tight, light device that combines the functions of a flashlight, red laser sight and an IR designator. LA-5/PEQ replica features a 22 mm rail mount and easy-to-use gel switch. Switch integrated in the casing allows for rapid change between different modes of operation: flashlight, laser, both aforementioned at the same time or infra-red laser (IR). The module is powered by two CR123A batteries. The set includes also a gel switch on a wire with the option of attaching it to the body of the replica.
The replica bears marking close to that of the original as well as three knobs, which, similarly to the real sight serve for adjustment of the pointers horizontally and vertically. The front side of the box has two plugs mountable on rubber straps, which allows them to be easily and quickly removed as in the original.

Link to parts manufacturer