JP FMOS™ Bolt Carrier Group with JP EnhancedBolt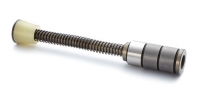 This carrier group includes our proprietary bolt design, the JP EnhancedBolt™. Superior in every way to a standard Mil-spec bolt, it's manufactured from SAE 9310, providing drastically extended lifespan with design improvements that ensure superior function.
The EnhancedBolt™ is compatible with any AR-15 platform using a Mil-spec bolt carrier and sub-components.

Package includes carrier, bolt assembly, cam pin, firing pin, firing pin retainer pin and instruction sheet.

Not for use in .308 AR-type rifles.

Link to parts manufacturer