Custom Speed Bolt Assembly Ruger 10/22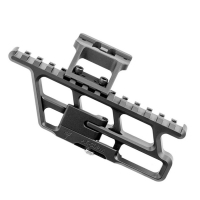 Eliminates feeding, stove-piping. jamming, misfiring and cartridge ejection problems due to worn parts from a factory made bolt and recoil rod handle.
Factory bolt parts have been observed to fail quickly due to the very high number of rimfire cartridges fired by a Ruger 10/22.
Using a brick of rimfire cartridges is common practice at the range.
Powder residue buildup and greasy bullet lubricants aggravate the problem.
Features CNC precision machined bolt body, hardened steel precision ground firing pin and extractor for positive, consistent cartridge ignition and cartridge ejection.
Essential for high-performance rimfire Ruger 10/22 LR actions firing match grade cartridges.
New smooth cycling recoil rod assembly with an extended knob for fast handling and consistent reliability.
Link to parts manufacturer