12.5" MATTE STAINLESS STEEL - 1:16 TWIST - FINNED - FACTORY TAPER BARREL THREADED 1/2-28 TPI FOR 10/22® SBR WITH THREAD PROTECTOR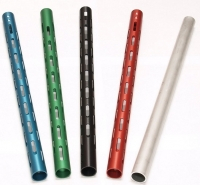 For customers that prefer a shorter barrel for their registered machine guns or registered short barrel rifles with the ultimate in appearance and performance, our MATTE STAINLESS FINNED 12.5" RUGER 10/22 BARREL is the perfect match to dress up your pistol or SBR rifle. The barrel is professionally CNC machined to provide deep cooling grooves from the receiver to the barrel band for an appearance that is similar to a Thompson or a Reising machine gun. No other upgrade for your 10/22 looks as good and is as functional as this FINNED barrel.
To make it even better, this factory taper replacement barrel is already professionally CNC threaded 1/2x28 TPI and comes WITH the thread protector, at a price that's just about what a one-off threading job would cost you. The barrels are perfect for any 1/2x28 threaded suppressor or accessory.

The barrels are 4140 series US Certified steel and are polish blued finish. The barrels are 1:16" twist, which is perfect for standard or high-velocity ammo. The barrels do not have any iron sights installed and are designed to be used with a receiver mounted scope or similar optics.

Link to parts manufacturer